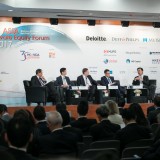 Hong Kong January 2017
Ascent Partners is delighted to sponsor the Asia Private Equity Forum 2017 organised by the Hong Kong Venture Capital and Private Equity Association.
In the forum, the Financial Secretary of Hong Kong Special Administrative Region Mr. Chan Mo Po and leading industry practitioners addressed key issues facing investors in Asia's high-performing private markets, including those of China, India, Southeast Asia, Japan and Korea. Discussions covered such topics as co-investments, fundraising and investor relations, private debt, private equity real estate, secondaries, value creation and venture capital.