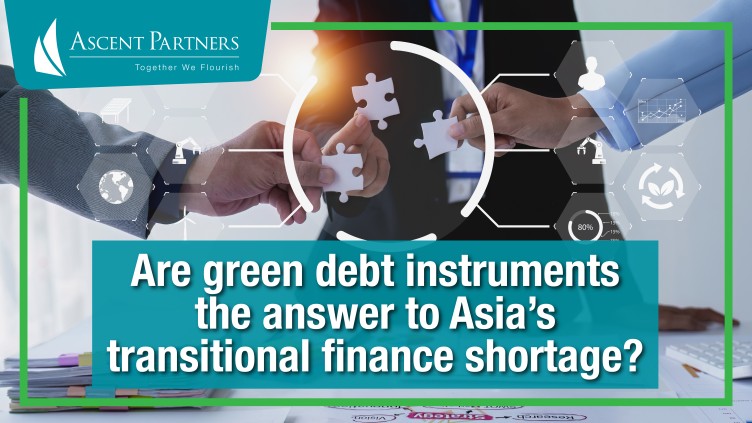 Are green debt instruments the answer to Asia's transitional finance shortage?
With green, social, sustainability, and sustainability-linked bonds now at the forefront of sustainable fixed-income strategies, having grown to $3trn (as of December 2022) from just $260m in 2018, Asia can take a leading role in the suitable transition strategy to sustainability.
Collectively referred to as 'labelled bonds', they offer a critical financial path to achieving the estimated US$1.7 trillion needed to fund Asia's sustainable transition, according to a White & Case survey.
Demand labelled bonds continues to pique the interest of companies looking to issue in a sustainable format, bringing more companies to the table to discuss investors' expectations, giving investors the opportunity to engage early in the process of a company's sustainability journey, voice their concerns and shape the transition trajectory.
This engagement provides an excellent avenue for a two-way dialogue, as companies can more clearly comprehend investor expectations and how to address them, and investors can better understand a company's sustainability strengths and weaknesses.
However, there is always a catch. Just because an issuance is labelled as "green" , caution must be exercised and proper due diligence executed.
Many early Asian green bonds followed few or only vague guiding principles, resulting in a real variation in the quality of labelled bonds brought to market, as issuers capitalised on demand.
Although the majority are aligned to recognised frameworks – such as the International Capital Market Association's Sustainability-Linked Bond principles or ASEAN's Green Bond Standards – labelled bonds with questionable structures do exist.
Examples such as funding for projects with minimal impact to a company's operations, inadequate restrictions to prohibit undesired use of bond proceed and, in the case of sustainability-linked bonds, the lack of ambitious targets meaningfully "beyond a business-as-usual trajectory", all need to be properly addressed.
From a company's perspective, if they have a clear, holistic, ambitious sustainability strategy in place, labelled bonds can be a core instrument to finance their transition journey.
For labels to be meaningful, companies need to understand what they represent, and work alongside experienced partners who have the resources, experience, and know-how to engage investors and identify opportunities to achieve their sustainability goals.
So as in many walks of life, don't judge a book by its cover!