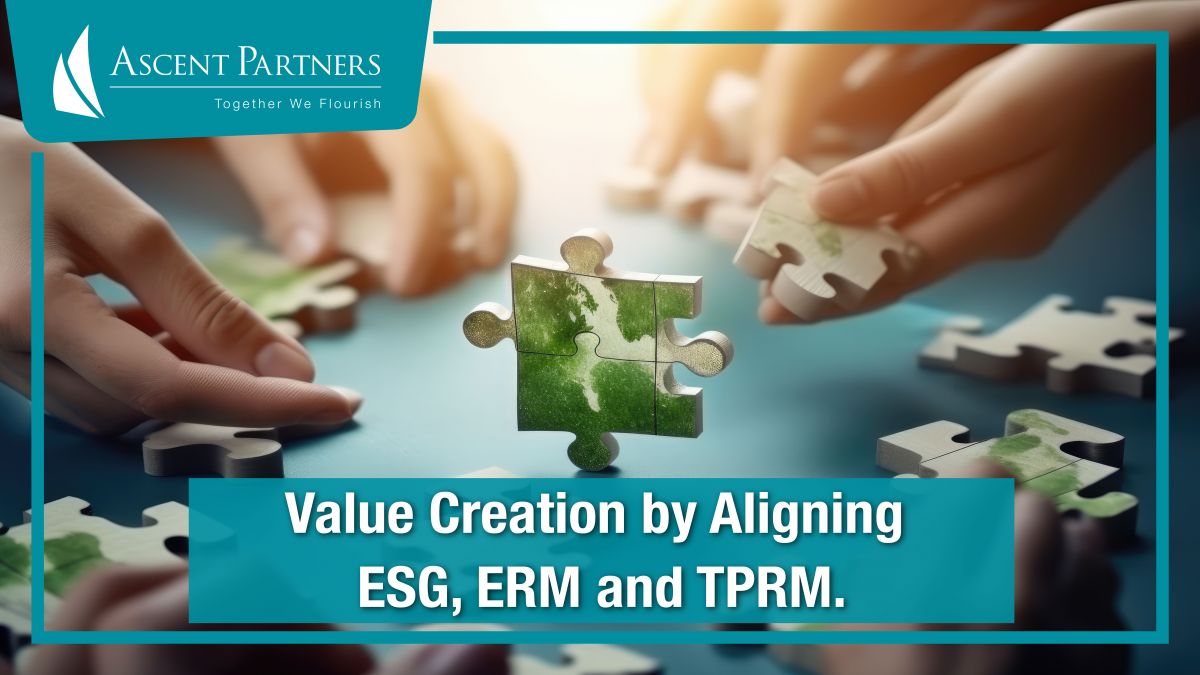 Value creation by aligning ESG, ERM and TPRM
One of the most talked about business challenges in recent times is environmental, social, and governance (ESG) practices. As more companies are being held accountable for their ESG performance by investors, consumers, communities, and regulators, the demand for greater transparency and accountability is increasing.
Known risk management practices, disciplines, and analytics can be beneficial to ESG practitioners working toward improved standards, reporting, and market acceptance.
Third-party risk management (TPRM) is an important element within the reporting scope of an ESG initiative because for many organizations, most of their carbon emissions come from their supply chain.
Investors, regulators, and consumers are increasingly holding first parties accountable for third-party failures as much as if not more than the third parties themselves, making it imperative to extend Governance, Risk and Compliance (GRC) disciplines across the third-party ecosystem.
Linking enterprise risk management (ERM), ESG, and TPRM is inescapable. Where a company may be perceived as having ESG risks, a standardized ERM approach can help them manage and mitigate the potential reputational fallout.
Similarly, where a company's relationships with a third party may impact its ESG performance, an integrated TPRM program under the umbrella of or applying best practices gleaned from an ERM program can help ensure that those relationships are managed in a responsible and sustainable manner.
Now, the importance of third-party ESG risks is becoming increasingly significant, as in the last few years, there has been a surge of new and potential mandates focusing on human rights and environmental due diligence in supply chains globally.
Linking existing TPRM practices with your ESG program, you can better understand how third parties impact your ESG ratings, which suppliers contribute the most ESG risks, what commonalities are shared by ESG and TPRM regulations, and more. The idea is to build a coordinated cross-functional approach that can minimize operational redundancies, while also making risk management more cost-efficient and agile.
When established ERM practices are applied to ESG and TPRM, it becomes easier to see how various factors such as employee welfare, raw material sourcing, production practices, and waste management can impact your overall risk profile and either hinder or help your business strategies and objectives.
By layering ESG into a proven ERM program, you can make sustainability and social responsibility a natural part of daily operations, and not simply a compliance or marketing activity.
The more you know about your ESG risks – how they affect different parts of your business in different ways, and how they interact with other risks – the more value you can create for your business, your stakeholders, and the planet at large.