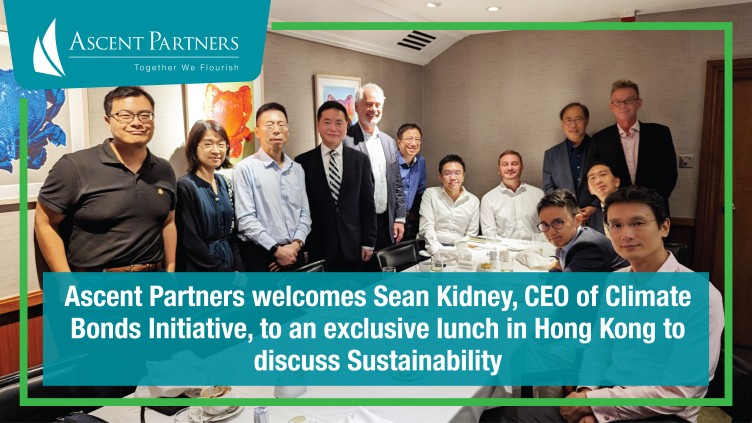 Ascent Partners welcomes Sean Kidney, CEO of Climate Bonds Initiative, to an exclusive lunch in Hong Kong to discuss Sustainability
We were delighted to welcome Sean from the Climate Bonds Initiative to an informal lunch to chat with our clients and colleagues about the battle for sustainability in the region and globally.
In a wide-ranging discussion, Sean highlighted several key points that need to be addressed and addressed immediately.
We have to translate the solutions that are there, but to make this happen we need capital and financial backing.
"We have already established an effective Green Bond Market, which between green, social and sustainable bonds some 3.5 trillion USD outstanding," Sean said to the group.
This proves that if we have effective financial mechanisms in place, with a regulated market and accessible to investors, they will put the capital in.
A good example of this was just last week, when the Hong Kong government's nearly USD6 billion, triple currency and multiple tenures was five times oversubscribed.
Sean moved on to discuss how the various taxonomies globally are becoming more and more aligned, which gives investors a less complicated due diligence process, and therefore will bring more pools of money to the table.
We then moved on to perhaps the biggest discussion, especially for Asia. Establishing an effective and long term goal towards transitioning from a high-carbon economy to a low carbon economy. This was necessary from all parts of society, from  governments down to small family companies.
"But there are two issues with the transition. The first is speed, and the second is parameters. Speed, if we are going to meet our 2030 targets, transition planning is now, not in 2028", Sean said. Speed is of the essence. But these plans need to be fit for purpose.
Regarding the parameters, Sean was keen to point out the need for a global certification process that progress is currently being made on.
"We can't be doing everything yet though, because we have to have reference trajectories. That's the next thing we will see – third review and assessment", added Sean.
Sean went on to discuss other various topics, but the overall story was one of progress being made and processes being put in place, but the need to speed up these transition plans and get them in place sooner rather than later was imperative.