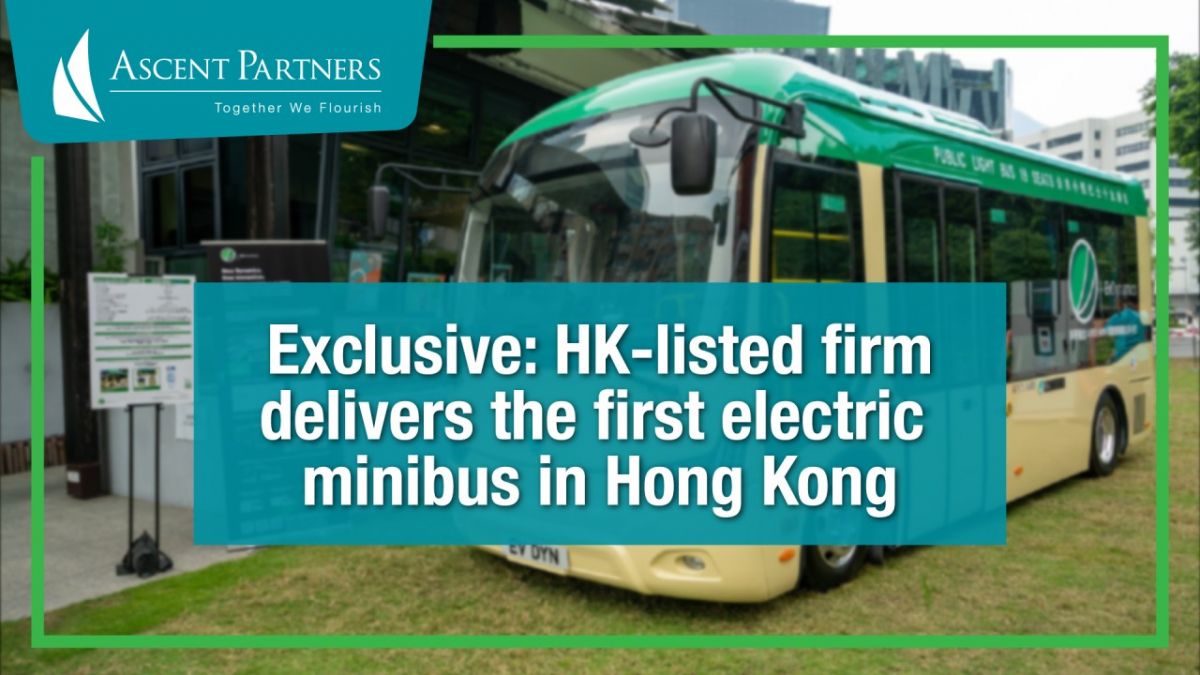 Exclusive: HK-listed firm delivers the first electric minibus in Hong Kong
Two years into development, the first electric minibus, from EV Dynamics in Hong Kong, completed the Public Light Bus Type Approval from the Transport Department and was delivered to GMB operator Vantage Billion Development Limited for route testing on September 16.
In an exclusive interview with Mr. John Ma, COO of the minibus manufacturer EV Dynamics (Holdings) Limited, we discuss the evolution of the APEX Mini and how the industry is expected to grow over the coming years.
"The whole project has taken two years to get to this stage", Ma said. He pointed out that the government has selected eight new models of electric minibus for a trial of 40 minibuses serving nine public transport interchanges across Hong Kong, starting with Cyberport and Kowloon Tong.
As of the end of May this year, six bus models have formally entered the pre-qualification stage with two more waiting in the wings whilst attaining manufacturer sign-off, according to Dr. Kenneth Leung Kai-ming, Assistant Director for Air Policy at EPD.
Currently, Ma estimated there were around 3,000 Public Light Buses operating in Hong Kong. These Hong Kong icons have converted from diesel to LPG over the last 10 years but are still major air polluters in the crowded streets of Hong Kong.
As the technology of electric vehicles bounds forwards, the opportunity to mark a new era of eco-friendly and socially inclusive public transportation was one EV Dynamics, an Ascent Partners client,  was keen to explore.
"This is a fantastic opportunity for our owned-designed and manufactured product to spearhead the shift towards greener transportation". Mr. Ma said.
The pure electric fully accessible minibus is tailor-made for Hong Kong. Its power system is suitable for the difficult traffic conditions found in Hong Kong. With its high-performance lithium iron phosphate battery, the vehicle is emission-free and can travel 230 kilometers with only 30 to 60 minutes of charging.
What sets the EV Dynamics minibus apart is its unique low-platform design. This was a critical factor in the development of the minibus as Ma explains.
"There is a requirement for a certain number of minibuses to offer low platform access to address the needs of people with mobility problems or the elderly" he explained, meeting the requirement for socially inclusive public transportation across Hong Kong.
So, what of the future?
The switch to purely electric vehicles will not happen overnight. The need to provide adequate fast charging facilities in convenient locations, such as Public Transport Intersections across the territory is one major consideration that needs to be considered carefully, for instance.
With full-scale trials taking place over the next year, EV Dynamics is well-placed to provide clean, efficient, and socially inclusive transportation for all citizens of Hong Kong.
And that can only be good news.