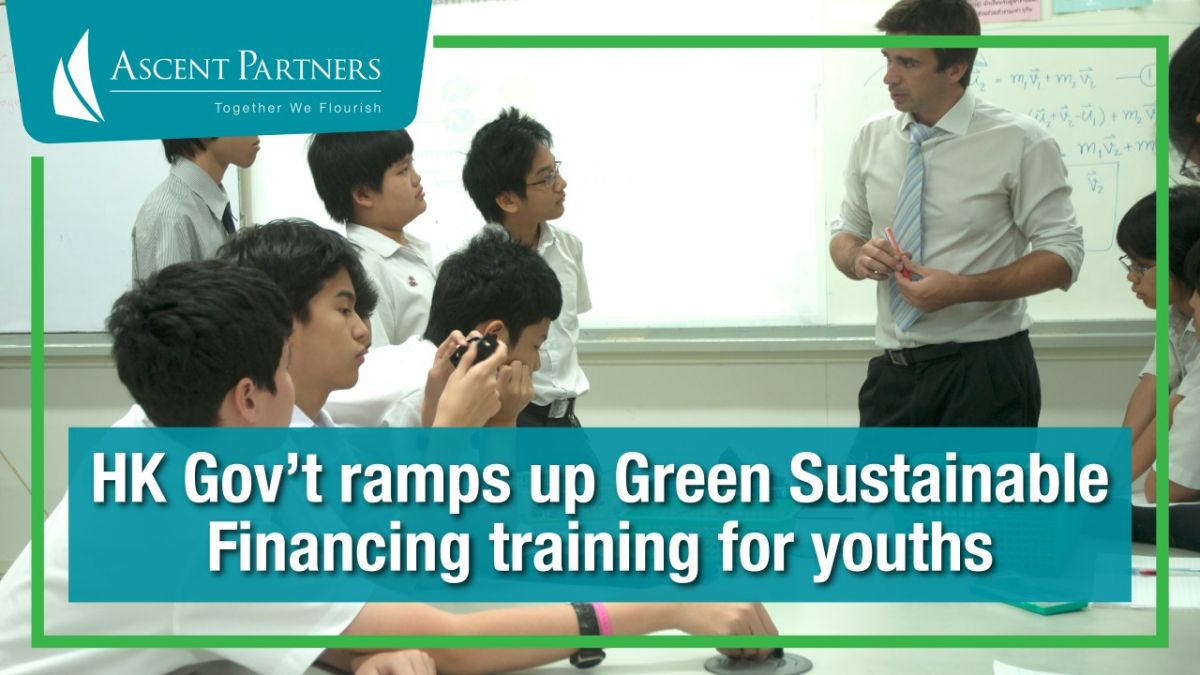 HK Gov't ramps up Green Sustainable Financing training for youths
The Hong Kong Government announced on December 13 the launch of a three-year Pilot Green and Sustainable Finance Capacity Building Support Scheme.
Aimed at Hong Kong residents who are market practitioners & students, the government has set aside HK$200 for training programs.
After completing eligible programs, applicants can apply for a subsidy of up to 80 percent of the relevant fees (full-time student applicants can apply for a subsidy of up to 100 percent of the relevant fees), subject to a ceiling of HKD 10,000, the government revealed.
The scheme has been set up to encourage local eligible practitioners and prospective practitioners to participate in training related to green and sustainable finance in response to the new trend of developing low‑carbon and sustainable economy.
Hong Kong's Financial Secretary Paul Chan previously announced the scheme in his 2022-23 budget speech in February 2022.
"We are committed to developing Hong Kong into a regional hub for green and sustainable finance, and nurturing talent is a crucial task in supporting such development," Chan said at the launch.
The Pilot Scheme has been accepting applications for registration as eligible programs since October 2022, and as of today there are 19 eligible programs, provided by the professional and continuing education schools of local universities, professional institutions, international training providers, and the list of eligible programs will continue to be updated.
The Pilot Scheme is administered by the Centre for Green and Sustainable Finance, a public-private collaboration platform launched under the Green and Sustainable Finance Cross-Agency Steering Group.
Established in May 2020, the Steering Group is co-chaired by the Hong Kong Monetary Authority and the Securities and Futures Commission. Members include the Environment and Ecology Bureau, the Financial Services and the Treasury Bureau, the Hong Kong Exchanges and Clearing Limited, the Insurance Authority and the Mandatory Provident Fund Schemes Authority.
The Centre for Green and Sustainable Finance coordinates the efforts of financial regulators, relevant government agencies, industry stakeholders, and academia in capacity building and improving data availability for the financial industry.
This is certainly welcome news for Hong Kong, as Singapore's Institute of Banking and Finance Singapore (IBF) and the Monetary Authority of Singapore (MAS) published a list of the 12 technical skills and competencies needed for individuals to perform various roles in sustainable finance in February 2022.
Singapore also launched the Climate Action Data Trust (CAD Trust) at the Asia Climate Summit 2022 on 7 December 2022. The CAD Trust will serve as a global platform that provides a decentralised record of data from major carbon credit registries including Verra and Gold Standard, and it is expected to enhance transparency and confidence in carbon markets by addressing issues such as double-counting which is an inevitable byproduct of the fragmented nature of current carbon markets
As the battle to become Asia's Green Finance centre hots up, Hong Kong currently seems one step behind Singapore, but with the correct effort, application, and continuing government support, it can rapidly catch up.