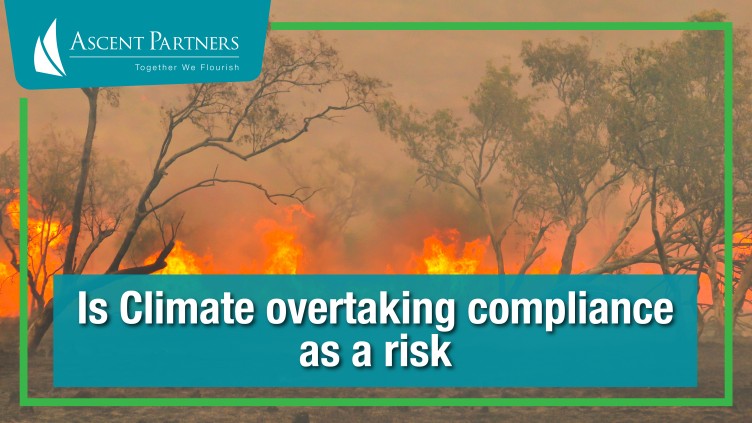 Is Climate overtaking compliance as a risk?
A worrying draft report from the United Nations in March highlighted that as of the end of 2022, just 12% of sustainable development goals (SDG) are on track to meet their 2030 targets.
In Hong Kong, recent amendments to the SFC regulations have seen an increasing emphasis on ESG and SDGs for Hong Kong Listed companies, and a growing emphasis on climate-related risks.
According to the 2023 World Economic Forum global risk survey, the top three risks are all related to financial failure directly attributable to climate risk and bio-diversity loss.
In fact, of the top ten risks, eight of them are climate related which is why regulators across the globe are taking the impact of climate change seriously.
The Hong Kong Monetary Authority (HKMA) is one such regulator thinking long and hard about climate risk change and risk factors.
Whilst the HKMA is primarily focused on the risks that climate change poses to banks, this will undoubtedly trickle down into the corporate regulatory structure for all listed companies in Hong Kong, as banks begin aggressively vetting their loan and investment portfolios.
Central banks and regulators have a crucial role in driving this change, and numerous tools to help them do so, including incorporating climate change factors into their policies and having a clear action plan – a climate-related strategy with KPIs, with a consistent operating model applied across departments, be they supervision, investment, research and the like, and each with their own KPIs.
As regulators become more and more focused on ESG and the SDGs, companies in Hong Kong also face increasing scrutiny from existing investors and potential investors.  As investment in sustainable development goals moves from the fringe to the mainstream, institutions are bringing with them experience and learnings that are accompanied by policy, regulation, and clear frameworks from regional governments.
This next phase, which is the forever phase, will be when sustainability becomes mandatory rather than just a choice.
This is why the time for action is now – not tomorrow, not next week, because as things stand right now the world needs to take action – whilst not ignoring the more traditional compliance function!