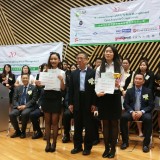 Hong Kong April 2017
Ascent Partners was invited to join the judging panel of Business Sustainability & Risk Management Case Analysis Competition held by the Association of International Accountants (AIA) on April 23, 2017. 18 universities from Hong Kong and Mainland China have joined the competition, in which a team of students from The Hong Kong University of Science and Technology won the championship, and students from The Open University of Hong Kong and The Chinese University of Hong Kong won the 1st Runner-up and 2nd Runner-up awards respectively.
Mr. Hauman Yeung, Director of Ascent Partners Advisory Service cut the ribbon for the competition and presented awards to winners. Ascent Partners is delighted to see more students addressing environmental issues, which brings hope to a better future with new talents contributing to environmental protection.