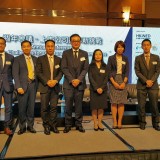 Hong Kong September 2017
Ascent Partners was honored to sponsor and speak at the "Annual Conference-New Challenges for Directors of Listed Companies", organized by the HKiNED in Hong Kong on September 22 2017.
Ascent Partners was proud to share the topics including SFC's Recent Guidance Note, Notifiable Transactions, Business Valuations and Due Diligence of Valuers. Ascent Partner's co-founders and director, Mr. William Yuen addressed that directors and senior executives should be aware of the guidance and serious consequences for abrogating their duties.