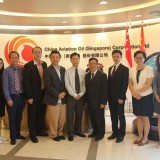 Singapore August 2017
Ascent Partners was honored to speak at the "One Belt One Road Seminar Series-The Sustainable Development of Chinese Enterprise Overseas" in Singapore on August 25 2017. Ascent Partners thank China Enterprise Association (Singapore) for invitation and 40 member companies for attending the seminar!
Ascent Partners was proud to share the latest listing requirements by Singapore Exchange on merger & aquisitions as well as sustainable reporting. Ascent Partner's co-founders and directors, Hauman Yeung and William Yuen covered needs, methods and importance of valuation and sustainable reporting. Ascent Partners Valuation Service Pte Limited advance side by side with Chinese enterprises overseas. Together we flourish!