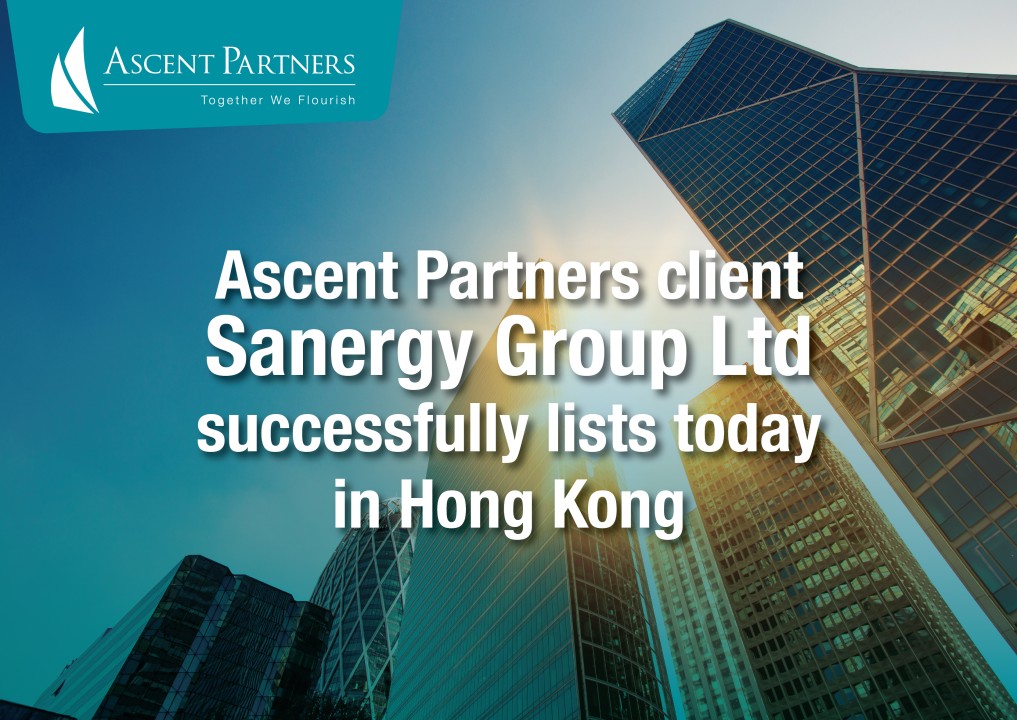 Ascent Partners client Sanergy Group Ltd successfully lists today in Hong Kong
Ascent Partners was delighted to see one of our clients, Sanergy Group Limited (2459HK), successfully list on the Hong Kong Stock Exchange this morning.
With IPO's in Hong Kong falling dramatically over the past three years due to the COVID-19 pandemic, it was our pleasure to work with Sanergy's Senior Management to prepare their ESG Report to help them come to market.
Sanergy is a global manufacturer of UHP graphite electrodes with a global customer base in over 25 countries, and production facilities in Italy and the PRC, producing 30,500MT annually.
With carbon goals peaking by 2030 and achieving carbon neutrality by 2050 firmly on everyone's agenda, Sanergy is transforming the downstream industry of steel manufacturing through shifting from blast furnace steelmaking to EAF (Electric Arc Furnace) steel manufacturing.
With blast furnace steelmaking currently dominating the marketplace, with 70% globally and up to 90% in the PRC, the transition to EAF techniques is critical in achieving the carbon goals by 2030 and 2050.
The Ascent Partners ESG team, lead by Founder and Director Hauman Yeung, worked hand-in-hand with Sanergy's Senior Management to provide the independent ESG report for the Hong Kong Stock Exchange.
Critical aspects in the report outlined the real opportunities for EAF to reduce emissions and waste, and reduce energy consumption at the same time, compared to blast furnace operations.
The production of UHP graphite electrodes serves as a critical component to EAF steel manufacturers in their transition to a greener, more sustainable economy.
Ascent Partners was delighted to work on this project, and the successful launch of Sanergy's shares into the Hong Kong market to strong demand from retail and institutional investors alike.
For more information on our services, please visit our website: www.ascent-partners.com  or contact us via email: contact@ascent-partners.com