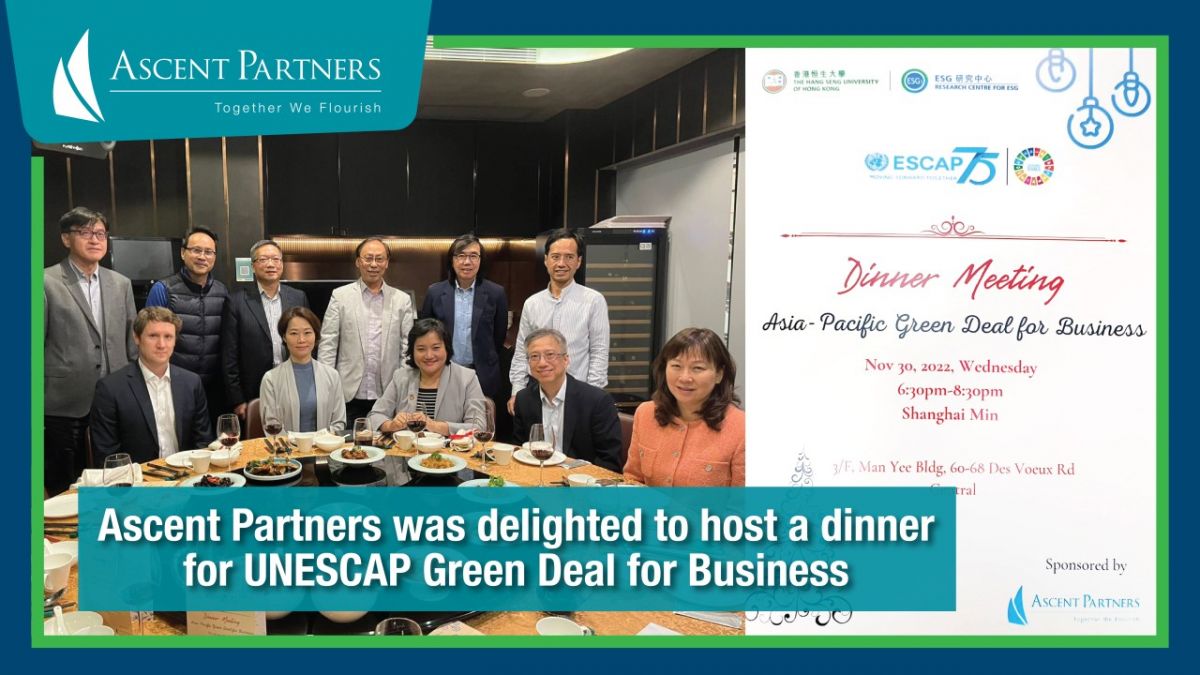 Ascent Partners hosts a welcome dinner for UNESCAP Green Deal for Business
Ascent Partners was delighted to welcome several members of the UNESCAP committee for the Green Deal for Business in Hong on the eve of the Third Sustainable Investing & ESG conference in Hong Kong.
Over a delicious meal, various topics were discussed in an informal setting, with all participants engaging in a lively and diverse discourse concerning ESG and the Investment climate.
Hauman Yeung, Director and Co-Founder of Ascent Partners has been working as a consultant for the UNESCAP Green Deal for Business program over the course of this year.
The Green Deal for Business is focused on 5 key principles:
1.          Advancing a zero carbon, affordable and resilient energy system. The energy system must be decarbonized in accordance with the commitments of the Paris Agreement and the 2030 Agenda for Sustainable Development, while providing reliable and affordable access to zero carbon energy for all.
2           Building smart, low carbon, water-secure and climate-resilient cities, infrastructure and mobility. Greenhouse gas emissions from construction and operations of urban infrastructure and its activities, including buildings and transport infrastructure, must be reduced further, while water security and resilience to future crises are strengthened.
3.          Mobilizing public and private finance for green transformation. New investment must be directed to sustainable energy, infrastructure, logistics, food production, water supply and other innovations for the new green economy.
4.          Accelerating and scaling up innovations for sustainable development. Now is the time to implement new business models and solutions to improve efficiency, lower costs and reduce environmental impact from the way we produce, consume, transport, work, trade and conduct business.
5.          Changing towards a more circular economy. New circular production and consumption practices will bring new business and employment opportunities, to maximize resource efficiency and minimize environmental impacts.
It is hoped that organisations across the Asia Pacific region with sign up the Green Deal, so Business and Governments can work hand in hand to help us all achieve the net-zero goal as soon as possible.
Ascent Partners was delighted to play host for the dinner and looks forward to working with UNESCAP in the future to make the Green Deal for Business a roaring success.