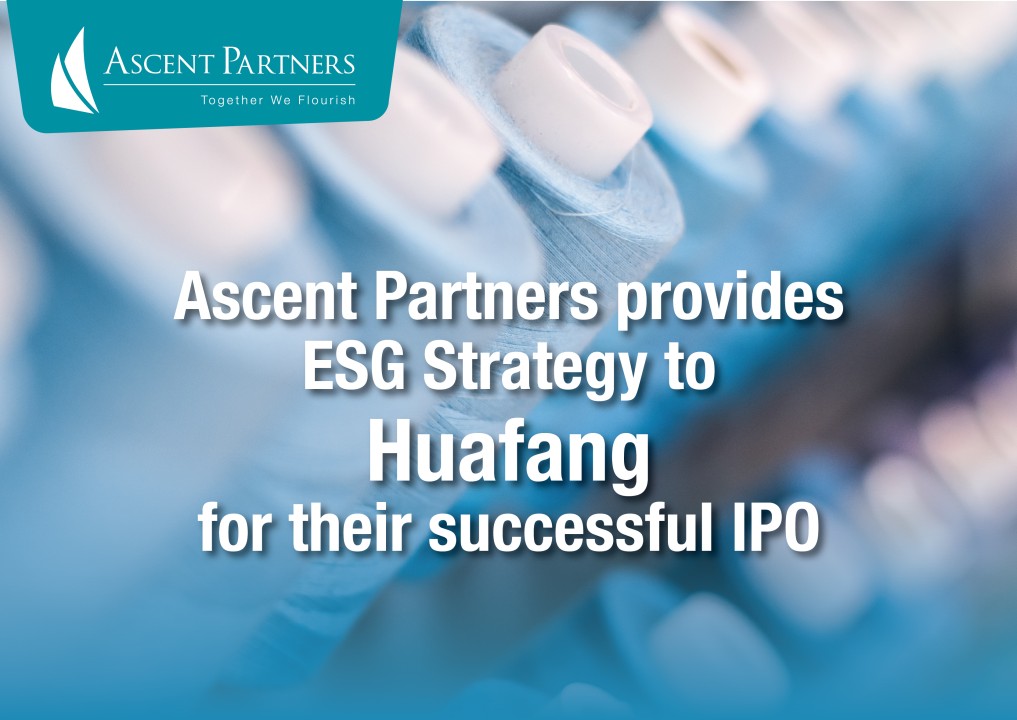 Ascent Partners provides ESG strategy to Huafang Group for their successful IPO
Ascent Partners is delighted to announce Huafang Group's successful IPO in Hong Kong on Monday 12 December.
The Group, (Stock Code 3611HK) is a Chinese internet company that offers video and audio-based live entertainment and social networking services.
Ascent Partners provided the ESG strategy for the Group, to comply with the updated HKEX listing requirements.
Hauman Yeung, Ascent Partners Co-Founder and Director worked on the submission with Ascent Partners' ESG team, closely liaising with Huafang's Management Team over several months.
Structuring the report, emphasis was placed by the Group on establishing and implementing sound ESG principles and practices to enhance the investment value of an enterprise and provide long-term returns to our stakeholders.
By setting a strategic direction, the Board sets a clear vision and strategy that guides the ESG measures or systems, reflecting the Group's core values.
These measures include identifying material ESG issues and risks inherent in the Group's business operations, assessing the performance of the Group's ESG measures through discussion with the Group's stakeholders, and reviewing the progress made against ESG-related goals to guide the Group to achieve better ESG performance.
Assessing the potential impact of climate risk on their financial performance and business operation, the Group examined possible physical and transitional risks that the Group may face in the coming years.
The final two sections outlined the Group's Environmental Policy and their Social Policy, and then stated their environmental performance and metrics, including a target of becoming carbon neutral by 2050, 10 years ahead of China's deadline.
Ascent Partners are delighted that the IPO was well received by the market, as 2022 has been a difficult year for companies coming to market.
Priced towards the bottom end of the range, the Group raised HK$128 million from the sale of 4,600,000 shares, 10% of which were offered to retail investors.
If you are looking for third-party advice for your IPO, please contact Ascent Partners directly.