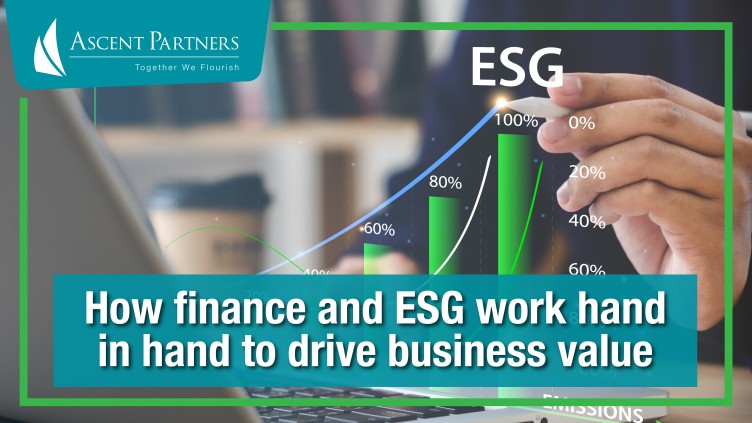 How finance and ESG work hand in hand to drive business value
ESG is becoming an undeniably critical in the multi-stakeholder approach towards company values. It has become a strategic pillar that all companies must embrace to solve the challenges ahead. And the relationship between finance and ESG is becoming one of strongest relationships within a business.
The key question here is: how do finance and ESG teams work together moving forward?
Often, the task of creating an ESG taskforce within the company that aligns with current and future regulations falls on the Chief Financial Officer (CFO). While the CFO's job hasn't fundamentally changed, their stakeholders have expanded beyond the traditional investor base.
This is one of the reasons the United Nations created the CFO Taskforce to encourage companies to commit to KPIs that drive investment toward Sustainable Development Goals. A top-down approach to the value of ESG is required across a company – from the boardroom down to the lowest tier of employee.
A strong partnership moving forward will require trust and common understanding between both teams. Finance brings the reporting rigor and the experience navigating audits. ESG teams bring a strategic voice of how ESG impacts the business and financial values of the organisation.
Working together is a win-win for the business.
Working ahead, getting data collection in place, and developing a relationship can mitigate a major risk of not being ready for when ESG becomes even more widespread.  Aligning on shared goals and a road map forward for your teams are critical at this point in time.
A sound and strategic ESG program put into place today, with the proper tools to oversee it, is an investment you should make before the clock starts ticking toward regulatory, and increasingly investor stakeholders, deadlines.
Working together, the two often diverse and traditionally non-aligned departments of finance and ESG, can make a difference.
The worlds of ESG and finance are constantly changing and the intersection of ESG represents the perfect encapsulation of the potential—and the challenges—of that future.
Together, we can all flourish!