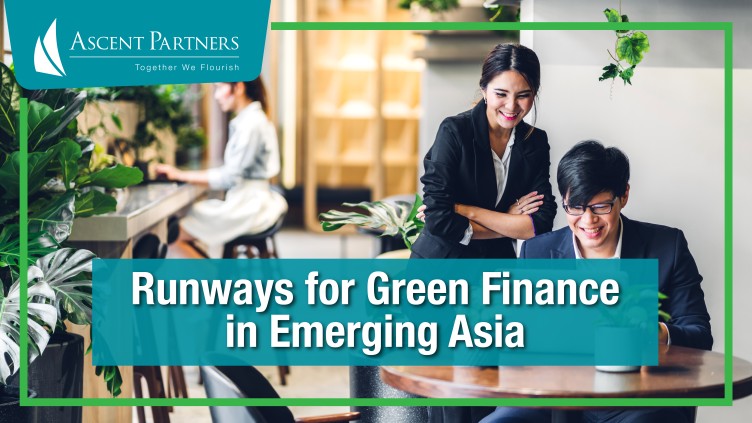 Runways for Green Finance in Emerging Asia
It is estimated that the average annual demand for green projects will be US$200 billion per annum up to 2030 in Asia, with the annual volume of green financing in ASEAN has increased to an estimated US$40 billion recently.
As Emerging Asian cities are expected to contribute more than half of the rise of global greenhouse gasses in the next two decades, radical changes must be implemented now. Low-lying and coastal cities in the Asian region are prone to rising sea levels, frequent floods, and other impacts of climate change.
Critical infrastructure, for example is amongst one of the most pressing issues facing SE Asian nations. Within Southeast Asia, the urban population is expected to increase by 90 million by 2030. Sustainable infrastructure grows in importance as it can mitigate various consequences of rapid growth, such as increasing power consumption, waste generation, and transport.
Financial tools are however, becoming increasingly prevalent in the fight against climate change. Green bonds and loans can be used to finance various environmental and sustainable infrastructure projects, such as renewable energy, energy-efficient buildings and low carbon projects.
Indeed, green loans now account for 22.5% of all loans in the ASEAN region. Issuances of green loans have recently been over-subscribed and some even offer to adjust loan pricing in favour of improved compliance with green benchmarks.
Green bonds have played a major part in the pivot towards low carbon buildings, with over 40% of ASEAN green bonds' proceeds dedicated to financing green buildings. Through construction and retrofitting of green buildings, cities will be able to reduce energy and resource consumption, allowing them to achieve sustainability targets. This can in turn facilitate a greener and more liveable environment.
So green financing options are available, in one of the regions in the world most affected by climate change. However, many enterprises in the ecosystem still lack the awareness and knowledge of how green finance and green projects can benefit them and society as a whole.
It is vital, then, for key "green" players in the public and private sectors to raise awareness on this topic by engaging the region in capacity building. Consistent efforts must be made to educate various stakeholders to understand and be involved in the green finance market.
The more prevalent green finance becomes, the more accessible it will become. And that, surely, must be a good sign for the future.