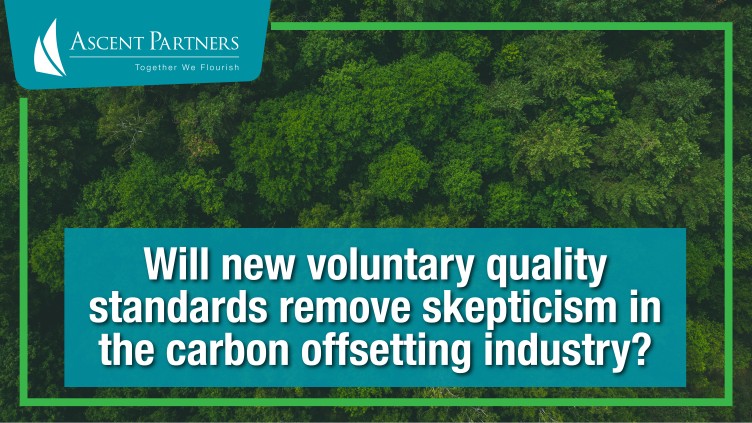 Will new voluntary quality standards remove skepticism in the carbon offsetting industry?
Last Thursday, new guidelines for a "good" carbon credit programme were announced by the Integrity Council for the Voluntary Carbon Market (ICVCM), to help guide buyers to high-quality credits following widespread concern that many are just hot air.
Carbon credits are used by major companies for their net zero strategies but the market is unregulated and there are concerns about their ability to mitigate climate change, halt biodiversity loss and promote sustainable development.
The ICVCM have set vigorous thresholds on disclosure and sustainable development for high-integrity carbon credits and establishing a pathway towards even higher ambition.
The criteria set a trend by requiring programs to ensure high-integrity credits come from projects with robust social and environmental safeguards that deliver positive sustainable development impacts.
The standards should help to improve trust in the market and channel billions of dollars to projects that help mitigate climate change.
To get the ICVCM stamp of approval, carbon credit certifiers such as Verra, Gold Standard and the American Carbon Registry will have to demonstrate how their credits were generated, show they are genuine emission reductions or removals with scientific methods, and adhere to rules on respecting the rights of indigenous and local communities.
Despite the project evolving from a consultation involving over 5,000 comments from more than 350 submissions, from carbon offsetting firms, indigenous representatives, banks, scientists and other experts, the fact that is voluntary still causes some concern.
The underlying problem right now in this unregulated market is differentiating between 'good" and "bad" credits. But will these new guidelines alleviate this skepticism in the market for many companies?
According to William McDonnell,   chief operating officer of the ICVCM, the guidelines are a starting point, which would be improved on over time.
Another member of the ICVCM's expert panel, Gilles Dufrasne from Carbon Market Watch, said the new rules should raise standards in the industry as many carbon standards do not yet meet them.
That should be applauded, and there is no doubt that the carbon market is undergoing more scrutiny and the desire for more transparency is clear. There needs to be full transparency on all the project information so anybody can scrutinise it.
Then, and only then, can a trading market operate to meet the expectations of all stakeholders, and drive sustainability into the mainstream.