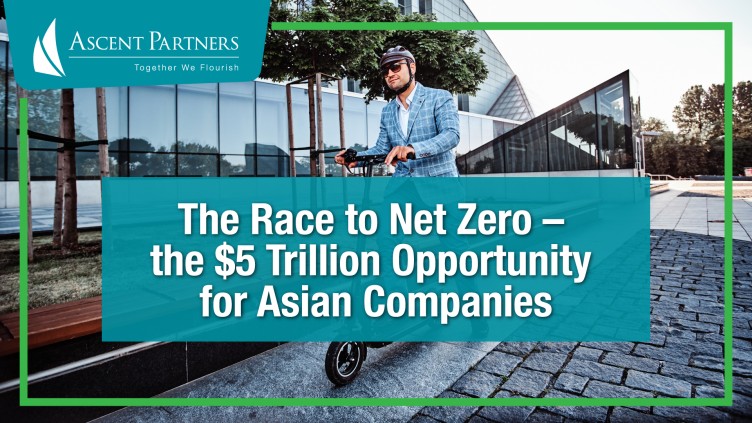 The Race to Net Zero – the $5 trillion Opportunity for Asian Companies
According to a McKinsey & Company analysis blog in August 2022, Asia could be in line for a US$5 trillion green business bonanza.
Climate Change is already having a physical and socioeconomic impact on countries, communities, and companies globally. The science is clear that without concerted action to reduce greenhouse gas (GHG) emissions the irreversible consequences will be even more catastrophic.
Never before seen change and collaboration between the public and private sectors are now desperately needed to achieve the goal of net zero emissions of greenhouse gasses by 2050.
According to a 2020 report, Asia has accounted for more than half of global CO2 emissions since 2019.  Across Asia-Pacific (APAC), more than 15 countries and 670 companies have set (or are committed to setting) emission-reduction targets, thereby creating new investment opportunities in green technology.
Asia boasts an extensive nature-based capital asset that can play a significant role in contributing to net zero, while simultaneously preserving biodiversity and ecosystem functions.
This means that building new green businesses will be the critical element to meet rising investor and consumer expectations, thereby staying competitive.
For companies in Asia, capital deployment in green businesses is growing in both the private and public sectors. In the former, there is a shift in focus towards businesses demonstrating green credentials, with around 60 percent of global funds including a focus on ESG topics in 2021 in their investment decisions, according to Prequin.
This is one reason why shifting from the old economy to the new, fossil fuels to renewable energy, investing in new technology, can be a boon for Asian companies.
As new technologies and methodologies come to the fore, Asian companies have an outstanding opportunity to pivot toward a more sustainable, and profitable future.
In transportation, power generation, sustainable fuels, carbon capture, utilisation and storage, the switch to an alternative protein market (non-meat), and the reduction in the use of carbon-intensive infrastructure projects, Asia is essentially a clean slate.
The opportunities are there.
Companies need to research, invest and think long-term rather than chase yearly profits. Then, and only then, the chances for achieving net zero by 2050 may stand a chance!