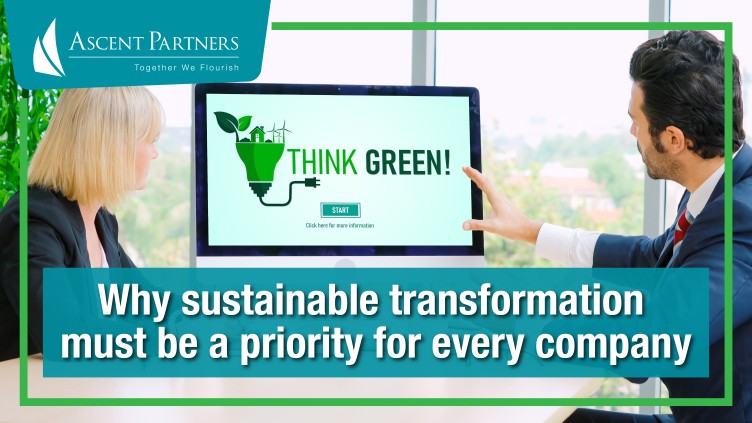 Why sustainable transformation must be a priority for every company
Is it possible to achieve the sustainable development goals (SDGs) by 2030 and become a more "affluent society in which major social issues have been resolved" by 2050?
Yes, it is possible, but for that, companies must prioritise implementing global sustainability guidelines, while at the same time take measures to meet the demands of specific organisations and industries.
All companies in all industries must prioritise sustainable transformation management right now, but what specific areas should they focus on?
The eight sustainable transformation issues critical to creating a strategic response for companies consist of five environmental issues (GHG climate change, energy, water, waste and biodiversity) and three social issues (physical, spiritual and social human rights.)
Companies must look to fulfill their SDG targets and learn more about sustainability management, while also providing targeted services for specific initiatives.
Forming carbon neutrality strategies, for example by help companies visualize their CO2 emission output is a good start.
The recent global pandemic put massive strain on many companies globally, with many struggling to return to pre-pandemic levels. However, putting sustainable transformation on the back burner, is not good strategy.
If they do not promote sustainable transformation and carbon neutrality, they risk losing out on current business, and by responding quickly and publicising the company's efforts to the market can be a proactive strategy to maintain – and even expand on – existing business.
Not to mention that the disclosure of sustainability initiatives, including emissions reductions, can also be important for a brand looking to enhance corporate value.
The failure to act now will lead to a loss of corporate competitiveness. We need to think of global recommendations and guidelines as 'must-haves' rather than a 'good-to-have.' It's important to forecast the impact of sustainability on businesses over the next three years and visualize the importance of these issues.
It is essential we fulfill sustainability obligations through initiatives such as the SDGs, among which, environmental issues are what have the greatest impact on the social value chain.
Changes in awareness and values will have a significant impact on corporate activities in the next 28 years. It is essential that these efforts are not limited to specific companies or organizations – they must be broadly applied throughout the value chain.
Then, and only then, will we have a chance to achieve the 2050 goals.